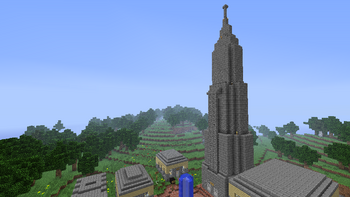 The Leeds Tower
is one of the more impressive structures on
Montvonde
, and it marks the central landmark in
New Alexandria
city. It stands more than 135 feet tall, dominating the landscape for miles around. 
The outside of the Leeds Tower is decorated stone and cobbled stone, along with bits of rock from nearby Alasantine ruins. Whenever a storm hits, lightning strikes the spire of the Tower.
Inside the Leeds Tower, it is mainly a large atrium with a wooden floor. The local pets, Crowfish and Rutherford, reside inside the Tower on most days.
It is rumoured that the Tower was built atop an old Alasantine graveyard, and that the Tower is haunted. This is unlikely, since there has never been evidence of any haunting.
The city's provisions are supposedly stored somewhere inside the tower, including the city guards' supplies.